Sepanjang perjalanan ini
Lembah dan lurah ku lewati
Ketenangan yang ku cari
Belum ku temui
Ku menghimpun doa bertahun
Mencari pepohon yang rimbun
Bertemu dahan yang rapuh
Tempat ku berteduh
( korus )
Dulu aku sendiri
Kini masih sendiri
Hadapi hidup ini
Susah senang diri ku
Tak bertempat mengadu
Seperti burung kepatahan sayap...
Dihati kecil ku menaruh harapan...
Selagi hidup belum sudah
Aku akan terus melangkah
Ku yakin rahmat buat ku
Di hadapan menunggu...

salam..
holla n mornink my bloggy ku syg..
arini ari mggu kn..so da mlm td late sleep..
ngat kn pg ni bgun lmbt..
but xley la plak..
da mcm trset kn dri ni ntok bgun awl..
xley bgun lmbt2..
huhuhu..
acc la kn..bile bgun2 jek aq dslubungi oleh byg2..
what i mean the

shadow

is my soul and my feeling..
i do know la..why must i feel like that..
uh!!!so sick oke that feeling..
bkk jek mate pg ni tros trpk lgu menaruh harapan..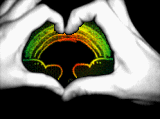 is that mean aq ni

mnaruh harapan

yg xpsti ke kt somebody???

who

???adekah si dia??
i and myself acc dont know what can i do n what happen..
i'm still
rite now..
arg!!!!!!!!!!!!i dont like this feeling n time so much..
what can i do with my feeling..
it so hurt if ignore that feeling..
i really need the answer..
Ya Allah...berikan la hamba-MU ni ptunjuk dlm segala2 hal yg brkaitan prasaan ini Ya Allah..
nukilan: